Laboratory bitumen emulsion equipment UVB-1
Bitumen emulsion equipment
The UVB-1L bitumen laboratory unit is designed for preparation of bitumen emulsion samples and development of emulsion recipe based on composition and application.
The UVB-1LM is a semi-automatic unit.
1-heated bitumen tank;
2-heated blend tank;
3-frame;
4-emulsion tank;
5-blend flowmeter;
6-blend supply valve;
7-pressure regulators;
8-control panel;
9-injection mixer;
10- blend drain valve;
11- bitumen drain valve;
12- blend input valve;
13- bitumen input valve;
14- emulsion drain valve
Process diagram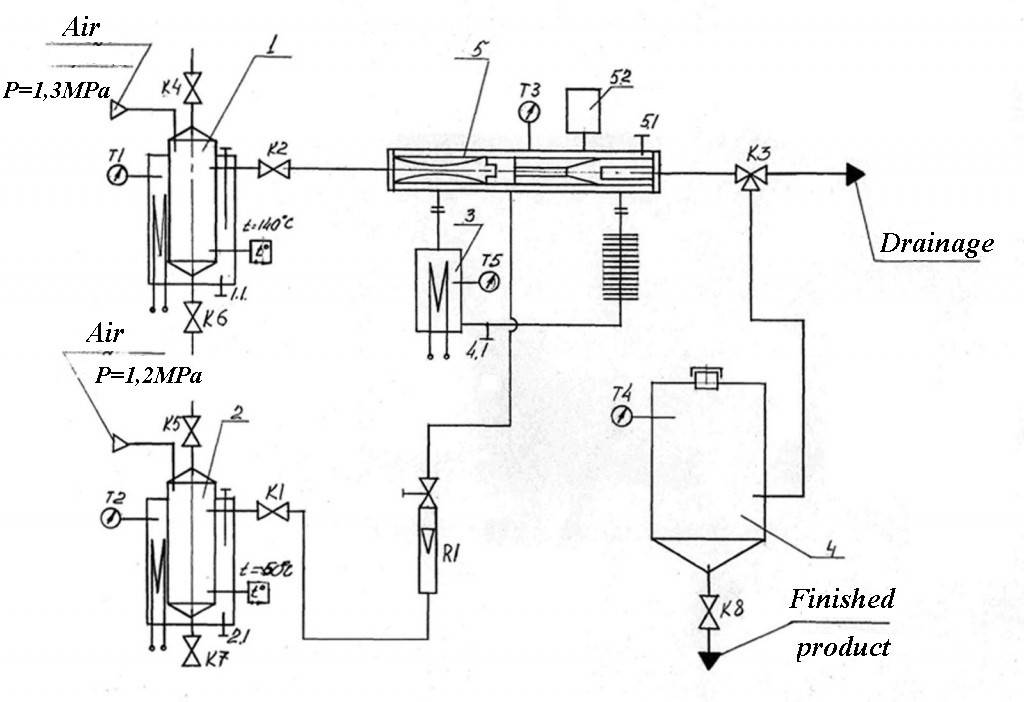 1 – bitumen tank; 2 – blend tank;
3 – mixer heating; 4 – emulsion tank; 5 – mixer;
Т – thermistor
The bitumen tank 1 and blend tank 2 are tanks with jacketed walls. The space between the inner and outer walls of the tanks is filled with insulator. Electric heaters are installed in the tanks. The tanks 1 and 2 are equipped with connectors with valves for input and output of liquid, a temperature sensor and a compressed air inlet.
The tanks 1 and 2 and connected to the injection mixer 9 by pipelines. The blend line features a flowmeter for blend dosage control.
The emulsion mixer 9 is double stage. In the first stage the bitumen phase passes through the injector and is mixed with blend. In the second stage the components of the emulsion are intensively mixed. The product is discharged into emulsion tank 4.
Emulsion tank 4 is a cylindrical vessel with a bottleneck and a drain valve.
The mixer is heated by oil circulating  from oil heater.
Compressed air or argon is used to create the required process parameters. Pressure is controlled and adjusted by two FESTO pressure regulators with manometers (0-25 bar)
Blend consumption is controlled by flowmeter with measurement range up to 1000 liters per hour.
Consumption is adjusted by a regulation valve.
Starting equipment is located in the control cabinet 8.
Bitumen and blend heating temperatures are set on a single channel temperature controller TPM1.
Bitumen, blend and mixer temperatures are measured by thermistors.
The unit can be operated at ambient temperatures +5C to +40C.
Control panel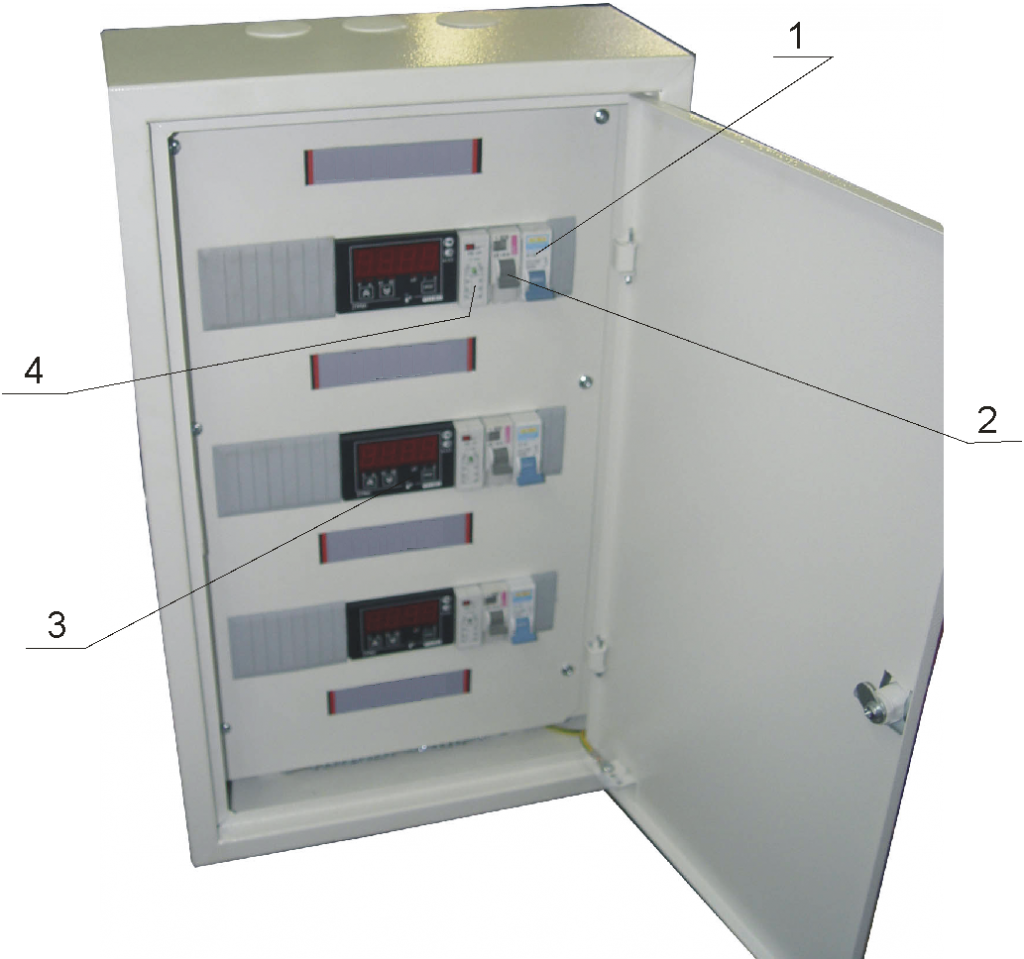 1-automatic switch; 2-switch with indication;
3-measuring regulator TRM-D-TS-R; 4- relay.
| | |
| --- | --- |
| Parameter name | Value |
| 1. Emulsion production capacity, liters/min (batch) | 20 |
| 2. Bitumen to mixer pressure, MPa | 1,6 |
| 3. Bitumen temperature, °С | 140-160 |
| 4. Blend temperature, °С | 40-60 |
| 5. Nominal power, kW | 6,0 |
| 6. Voltage, V | 380 |
| 7. Dimensions, mm | |
|          – length | 1450 |
|          – height | 700 |
|          – width | 1300 |
| 8. Weight, kg | 195 |