Laboratory scale foamed bitumen plant type Uvb-L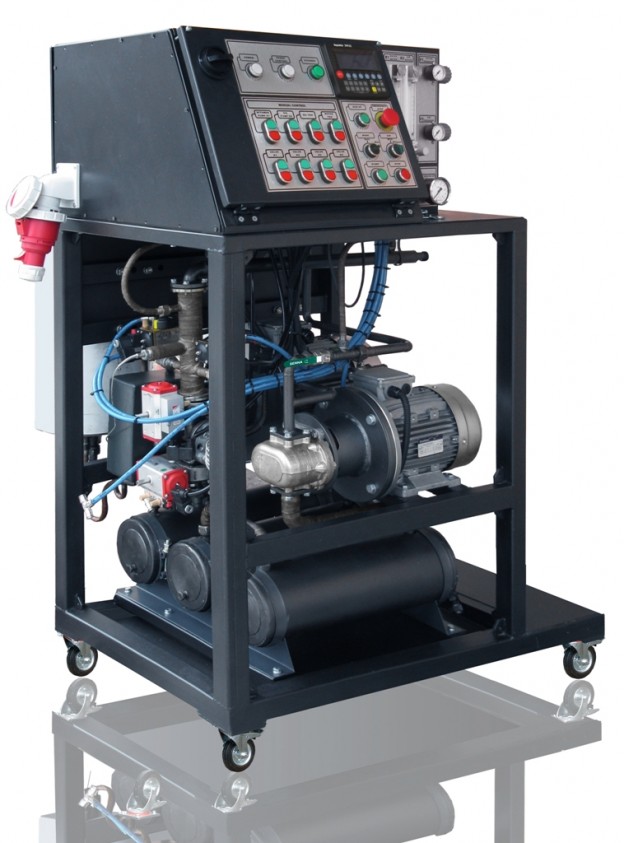 The laboratory scale foamed bitumen plant type UVB-L is designed for obtaining foam bitumen samples.
The unit can be operated by organizations, producing asphalt concrete mixtures, as well as road construction and repair organizations.
The unit is designed for indoor operation.
The design of the unit ensures normal operation in ambient temperatures from +5 0Сto +400С and relative humidity 70%.
General view
UVB-L bitumen unit consists of frame 1, on four castor wheels 2.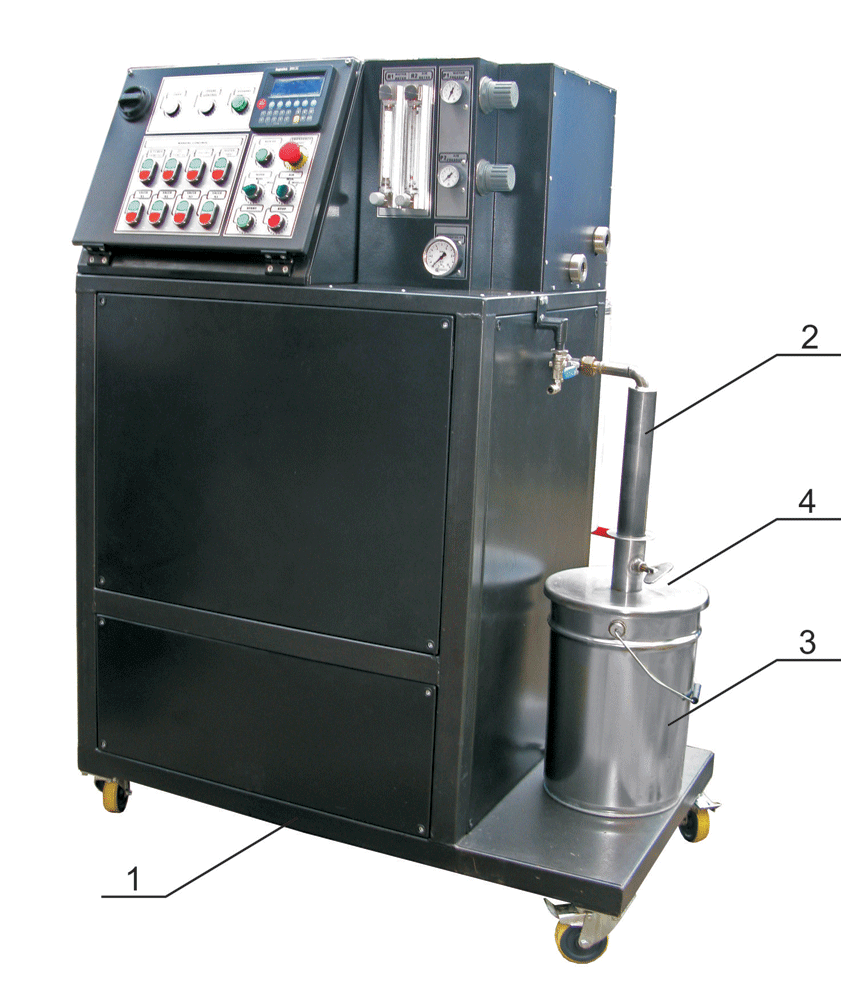 The frame 1 supports: three sections of oil heater 3, oil pump 4, bitumen pump 5, expansion tank  6 with breather valve 7 (not shown in figure), bitumen tank 8, water tank  9, control cabinet 10, pneumatic panel 11.
Mixer 12  with pneumatically operated valves is connected to bitumen pump 5:   К1 bitumen supply– 13, К2 bitumen return – 14,  К3 water supply – 15,  К4 air supply – 16.
Frame 1 features threaded connections for heat and sound insulation panels.
Castor wheels 2 allow free movement of the unit and secure placement.
Heater with three sections 3 is a stream system with three heating sections with an electric heater in each stage. Each of the stages is insulated.
Oil pump 4 is a gear pump with motor Р2  with 1.5 kW power.
Bitumen pump 5 is a gear pump with motor Р1 with 3 kW power. The gear pump is equipped with heating jacket for warm up before start.
Expansion tank 6 is a 5 liter tank with breather valve 7.
Bitumen tank 8 is an insulated tank with lid 8.1. The tank is equipped with: copper heat exchanger 8.2 for bitumen heater, temperature sensor (Т1) 8.3, circulation tube with spreader  8.4 and drain valve dn 32 8.5.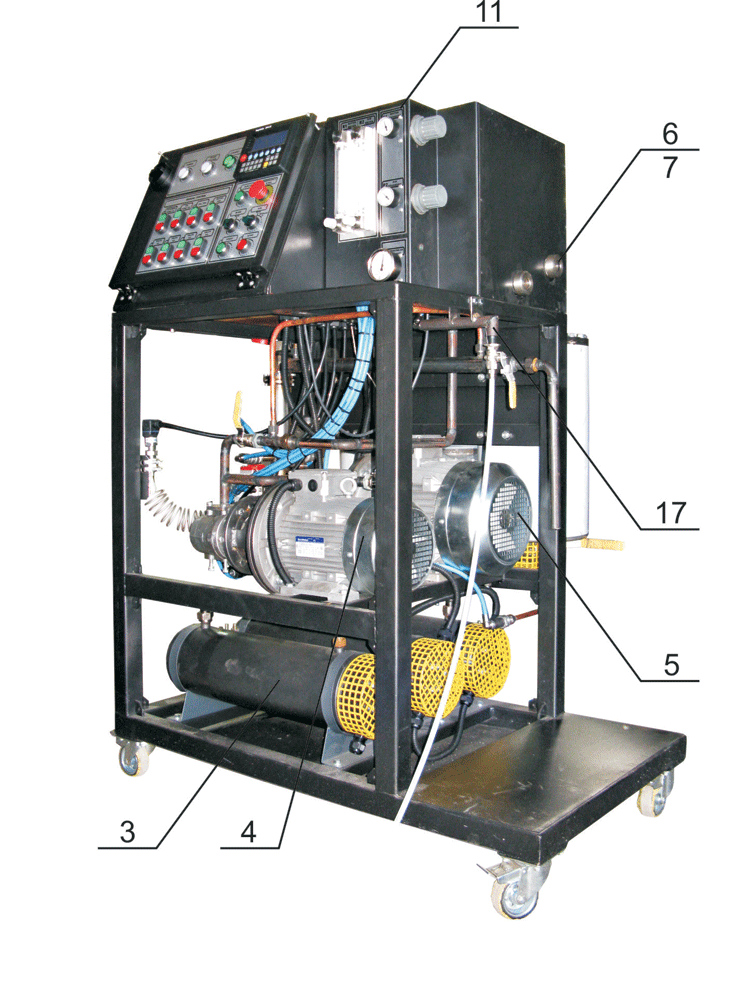 Water tank 9 is an insulated airtight 20 liter tank. The vessel is equipped with electric heater coil, temperature sensor 9.1, water input valve 9.2, water drain valve 9.3, slide valve 9.4 for compressed air supply and water supply tube 9.5.
Control cabinet 10 is an airtight metal case with sliding panel 10.1 and tilt panel 10.2. The slide panel contains power components, while the tilt panel contains the controller and control buttons. Power supply socket is installed on the side of the control cabinet 10.3.
Pneumatic panel 11 contains water(R1) and air (R2) supply flowmeters. The panel also contains compressed air regulator (МС1) – water supply 11.1 with manometer, compressed air regulator (МС2) – air supply 11.2 with manometer and collector 11.3 for air distribution across pneumatic devices with manometer.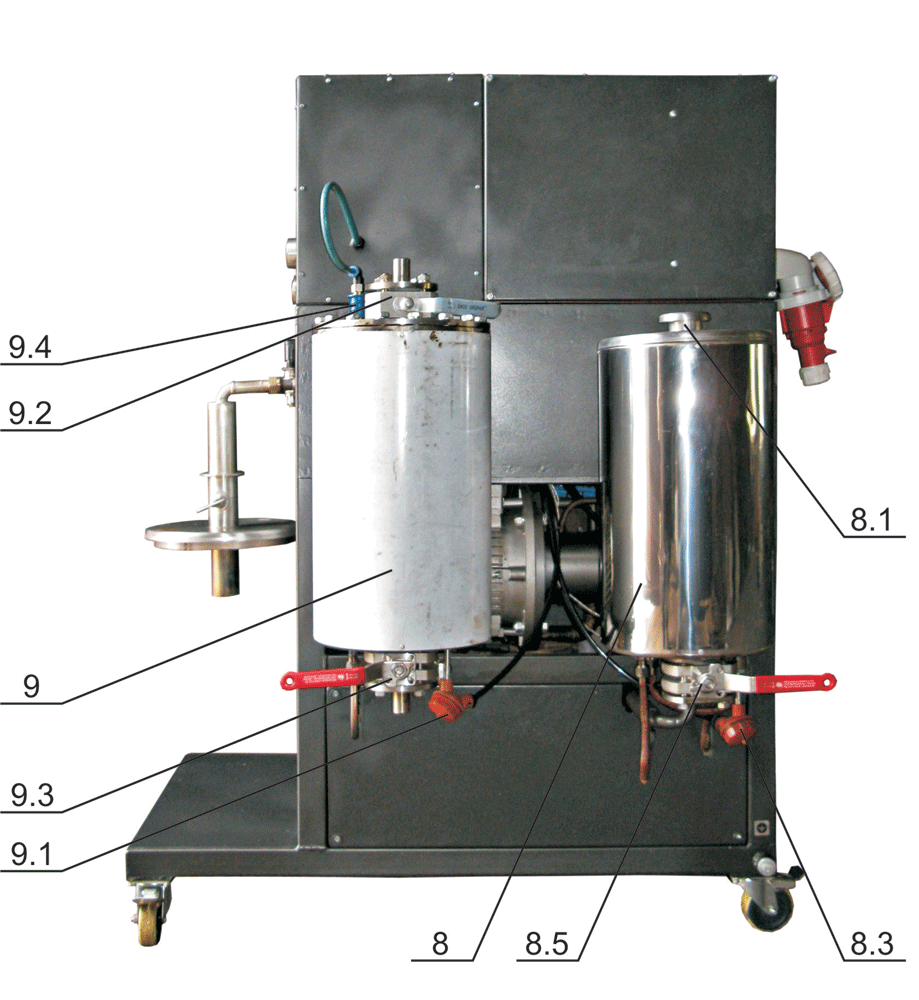 Mixer 12 is an injection mier with 3.5 mm, equipped with insulation jacket. The mixer features pneumatically operated valves:
К1 – bitumen supply 13
К2 – return bitumen 14
К3 – water supply 15
К4 – air supply 16
Pumps, tanks, the heater and the mixer are connected by insulated pipelines. The pneumatic system is connected by blue hose with input valve 17.
Heat oil circulation includes: connecting pipelines, oil circulation pump, expansion tank and oil input valve.
Control panel part view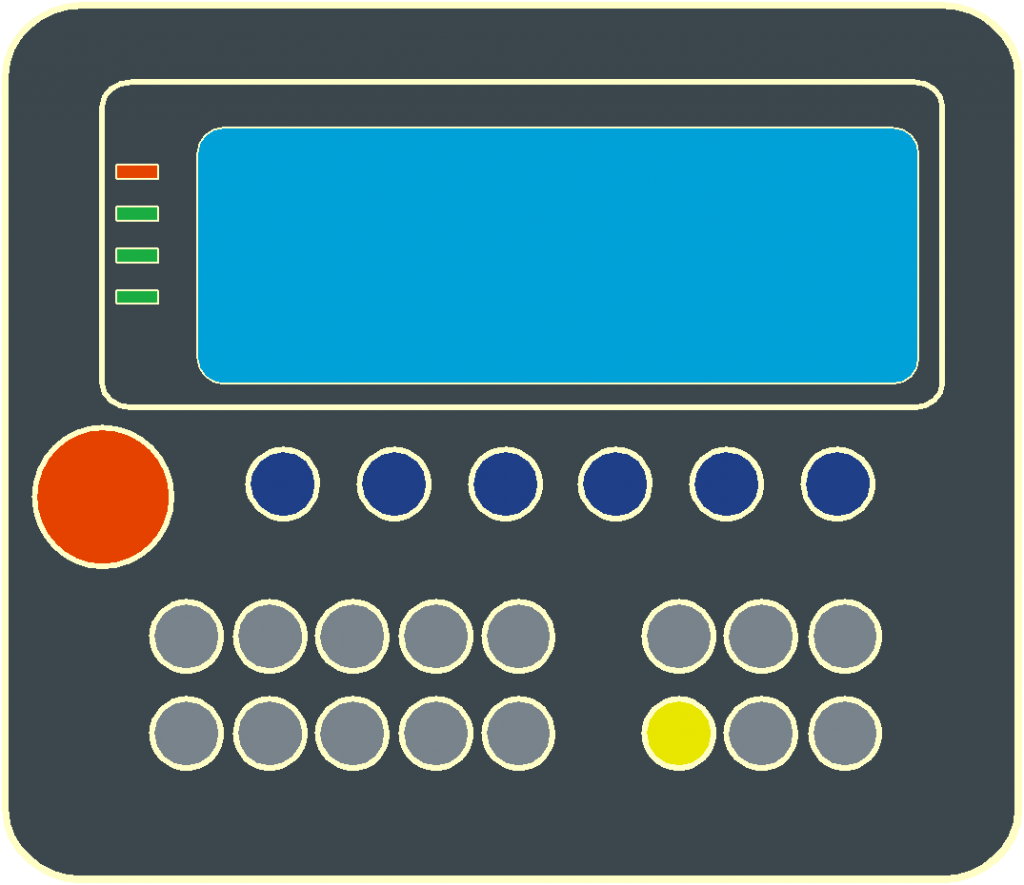 Controller view
The UVB-L units are designed for sample preparation of the following:
asphalt emulsion,
foamed bitumen,
foamed asphalt,
foam bitumen,
foam asphalt,
expanded bitumen,
expanded asphalt,
bitumen foaming,
asphalt foaming,
cold bitumen  mix
bitumen emulsion,
bitumen emulsions,
bitumen emulsion plant,
anionic bitumen emulsion,
cationic bitumen emulsion,
modified bitumen emulsion,
rubberised bitumen emulsion,
polymer modified bitumen emulsion,
Polymer Modified Bitumen

The UVB-L laboratory unit is designed for preparation of small samples (up to 10 liters per cycle) of modified bitumen.
The unit employs inline mixing with simultaneous dispersion of bitumen and polymer in the mill. The design facilitates introduction of liquid additives to the modified bitumen.
The unit can be used by oil processing facilities to perfect production process of modified bitumen preparation by finding the required amounts of additives, using the prepared sample for laboratory analysis.
Specifications
Item

No

Parameter

Value

1.

Min capacity of the mixer, bitumen, l/hour

600

2

Water consumption, l/hour: min

max

6

30

3

Air consumption, l/hour: min

max

0

100

4

Bitumen pressure, max, bar

16

5

Water pressure, max, bar

6

6

Air pressure (to mixer) max, bar

6

7

Air pressure (to controls)

min, bar

max, bar

4

6,3

8

Bitumen temperature, 0Сmin

max

140

160

9

Water temperature, 0Сmin

max

20

60

10

Oil temperature (for heating), 0Сmin

max

120

180

11

Rated power, kW,

Bitumen pump

Oil pump

Heaters

Control

Total

3

2,2

5,1

0,1

10,4

12

Power supply voltage at 60 Hz V,

440

13

Bitumen tank volume, l

20

14

Water tank volume, l

20

15

Heating oil volume, l

10…15

16

Dimensions, mm,

length

width

height

1250

970

1490

17

Weight, max, kg

400