Laboratory scale modified bitumen plant type UMBL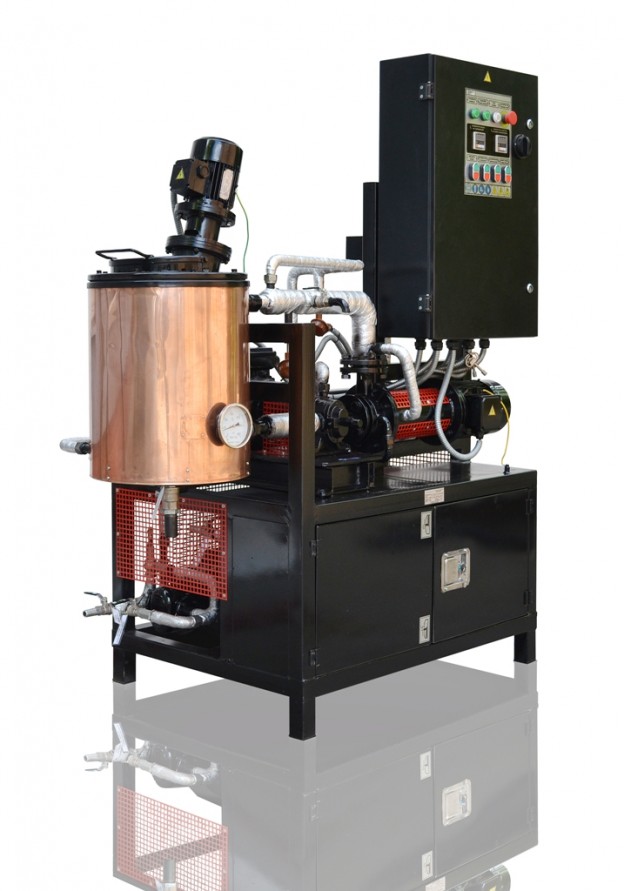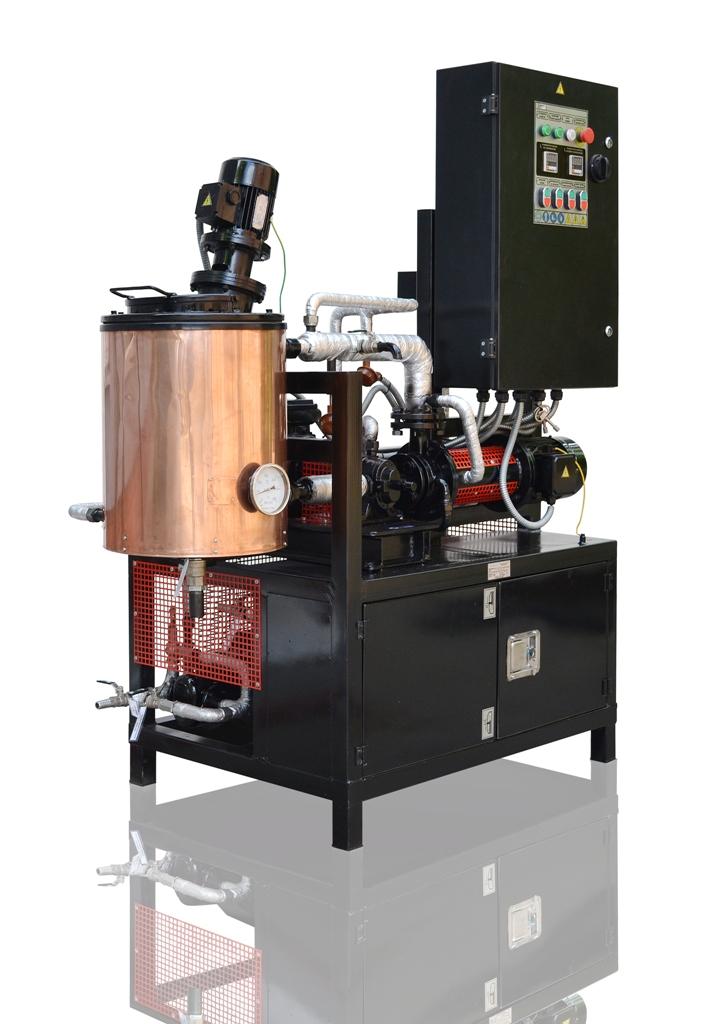 UMBL bitumen modification laboratory unit is designed for preparation modified bitumen samples (no more than 12 liters per cycle).
The unit employs continuous stream mixing for modified bitumen preparation with simultaneous dispersion of bitumen and polymer (i.e. in mil). The design allows addition of liquid components in the process of modified bitumen preparation.
The unit may be used at oil refining facilities for optimization of modified bitumen production process by determining the required amount of modification additives, using the prepared sample for laboratory testing.
General view of laboratory modified bitumen production unit.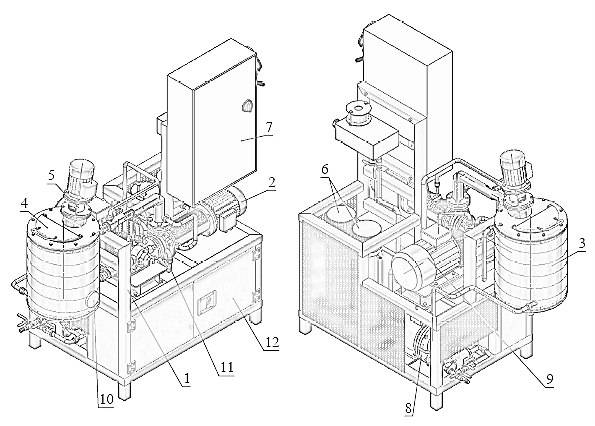 General view
1 – frame, 2 – mill, 3 – reactor, 4 – bitumen and modification components load hatch,
5 – mixing mechanism, 6 – heat carrier heater, 7 – control cabinet,
8 –  heat carrier pump,9 – bitumen pump, 10 – analogue thermometer (bitumen temperature),
11 – pipeline system, 12 – accessory storage locker
Unit components are secured to welded frame.
Bitumen and modification components (polymer) into reactor 3 through hatch 4.  If necessary, liquid components may be added through the same hatch.
Operating temperature range of hot bitumen is maintained by heat carrier (a liquid with a bery high flashpoint, at least 220-250°C is required), from heater 6 with electric heating elements.
Bitumen is heated to the operating temperature range (Тmax=190°C) with constant agitation by mixing mechanism 5 and is controlled by automation. If max heating temperature must be changed (Тmax=190°C), it is possible to change the setting on measuring regulators as authorized by the manufacturer.
The temperature of bitumen and heat carrier is monitored with the help of TS1, TS2 and is shown in the control panel display 7. Bitumen temperature can also be seen on the analogue thermometer 10, installed in tank 3.
The components are driven by electric motors via flexible coupling.
Uniformity of dispersion process is ensured by constant agitation of bitumen while passing it through the mill 2.
Bitumen circulates through pipelines 11 when bitumen pump 9 is on. The piping system, the pump and the tank are heated by heat carrier from heater 6, supplied by pump 8. This is to enure the correct temperature range to start the bitumen pump, the mill and the agitator.
A locker (12) is installed for storage of accessories.
Flow diagram

V1-V8 – manual ball valves, CM – colloid mill, R- reactor, P1-P2 – gear pumps,
М – agitation mechanism, Н – heat carrier heater, TS1-TS2 – thermistors,
ТМ – analogue thermometer, ET – expansion tank, F – filter, SV – safety valve
Front panel of the control cabinet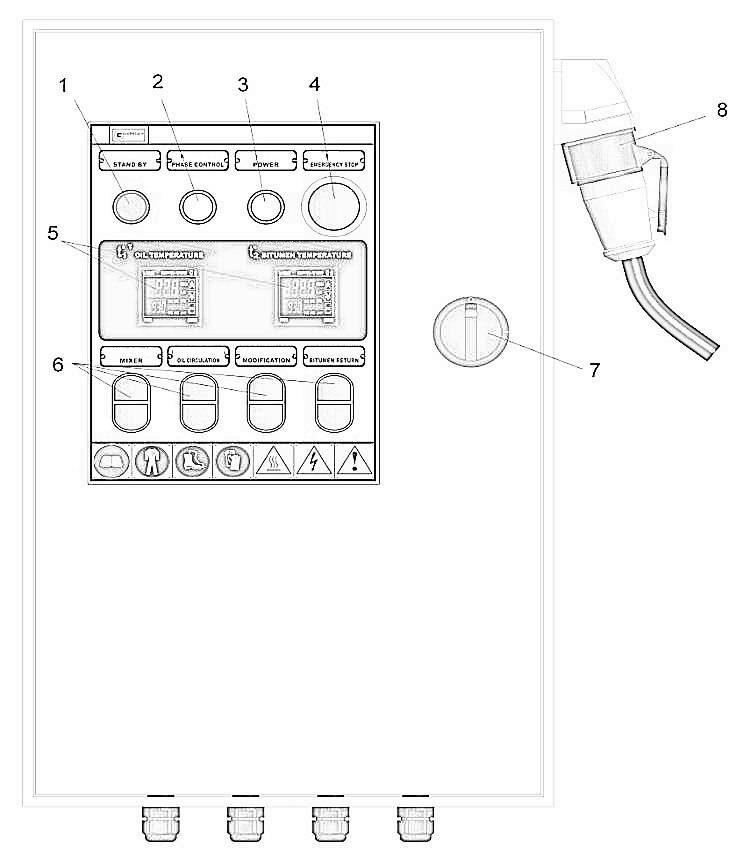 1 – Drive ready to start light, 2 – Phase sequence control light, 3 – Control system power light, 4 – Emergency stop button, 5 – measuring regulators, 6 – Start/Stop buttons, 7 – power disconnect switch, 8 – power supply socket
Specification
No

Parameter

Value

1

Hopper volume, liters

24

2

Minimum bitumen load in hopper, liters

10

3

Maximum bitumen load volume, liters

12

4

Modified bitumen preparation process

dispersion of bitumen and polymer in mill

5

Pump capacity, liters/minute

30

5

Max modified bitumen preparation temperature,  оС

190

6

Minimum bitumen load temperature, оС

160

7

Method of liquid heating in tanks and pipelines

heat carrier

8

Heat carrier heating with electric elements, kW

4,8

9

Control

manual

10

Unit assembly controls

automatic

11

Max power consumption, kW

15

12

Dimensions, mm

– length

– width

– height

1630

770

1800

13

Net weight, kg:

42