UVB-2 modified bitumen batch unit 4-7 m3 per hour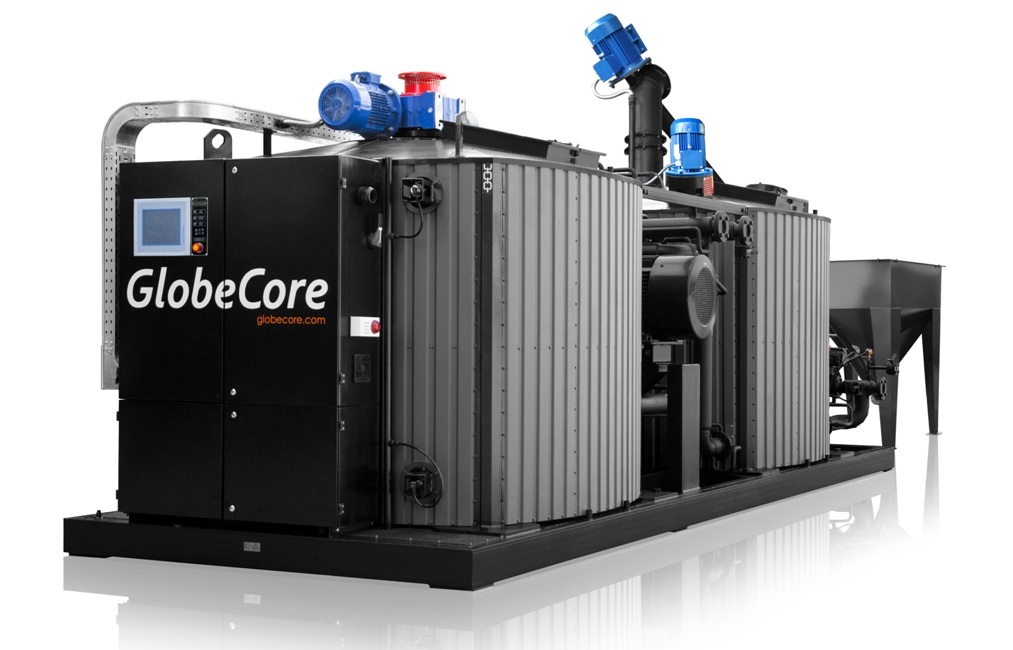 UVB-2 modification unit is designed for production of modified bitumen, including polymer bitumen binding for preparation of top coat asphast-concrete, surface treatment of road top, protective layers of concrete and cement covers, membrane crack sealants, bitumen-elastomer sealing mastics and roofing material by injecting polymers.
The unit may be operated either outdoors under protection of a canopy, or indoors with forced ventilation. The unit is designed for operation in the temperature range from + 5°С to +40°С.
Specifications
Parameter

Value

1. Minimum capacity, m³/hour

4-7

2. Consumption of polymer per 1 m³ of bitumen input, kg

10…100

3. Mode of operation  –   batch cycles
4. Number of reactors, pcs

2

5. Nominal power, kW

-mill

45

-bitumen to mill pump

7.5+7.5

-bitumen input/output pump

7,5

-agitator drive

2×5,5

-heater (total)

4×27

-heat carrier pump

3

-control system

0,8

-plasticizer supply pump

3

-adhesion additive supply pump

0.25

-total

193.5

6. Power supply

– voltage, V

380

– AC frequency, Hz

50
7. Dimensions (excluding components removed for transportation), mm

– length

5200

– height

3200

– width

2400

8. Weight, kg, max

5600
The performance specification were obtained when operating with power polymers Kraton-D, Kraton D-1107 and Kraton D-1192.
Performance specifications may vary if the unit id operated with the same polymers in pellets or other polymer products. Contact the manufacturer when selecting other polymers.
Unit design
The bitumen modification unit comprises two reactors, a mill, an oil heater, bitumen supply assembly, control cabinet, polymer supply assembly, pneumatically and electrically operated bitumen valves, process heating system, adhesion additive supply assembly, plasticizer (oil) supply assembly, and a polymer loading platform.
The main components are attached to a steel frame.

General view of the bitumen modification unit
1 – frame; 2 – input/output pump (located in the back); 3 – mixer; 4 – polymer hopper; 5 – reactor No1; 6 – reactor No2; 7 – mixer supply pump; 7.1 – mill supply pump; 8 – mill; 9 – heater; 10 – control cabinet; 11 – plasticizer (oil) supply assembly; 12 – polymer loading platform.
The reactor section has two cylindrical tanks with conical bottoms. Heat carrier tubes are attached to the outer surface of the tanks. Industrial oil serves as the heat carrier. The reactors are insulated to reduce heat loss.
Agitator support and three way bitumen valves are installed in the lower part of the conical bottoms. The following are attached to the lid of the tanks:
vane agitator drive;
bitumen circulation connector;
access hatch;
high bitumen level sensor.
Agitator drive is based on worm-type gear motors. The agitator is connected to the drive by geared self-aligning coupling.
The mill (pos.8) consists of heated case with rotating and stationary disks with adjustable gap. The shaft is sealed.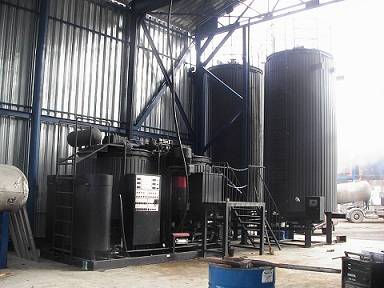 Oil heater assembly has two heating sections interconnected in pairs. Each tank has nine electric heaters at 3 kW each. Heater terminals are protected by covers.
The bitumen supply assembly consists of bitumen pump H1, three way valves K1, K2 and K4 and pipeline system.
Polymer supply and mixing assembly is a 250 dm³ loading hopper with K7 valve. Low polymer level is signaled by HY low level sensor. A portioning injection mixer receives bitumen from the pump H2; air and polymer mix is supplied to the vacuum chamber. The H2.1 pump assembly is more powerful than H2, therefore unloading the mixer for stable operation of the injector.
Pneumelectric valves facilitate control automation, these are equipped with pneumatic actuators.
A source of compressed air is required for operation of the unit.
The heating system maintains the correct bitumen temperature. The system is designed as insulation jackets of pipelines with valves and tanks. The system contains industrial oil with temperature t = 190 °C.
Plasticizer injection assembly consists of pump assembly based on gear pump and valves. Plasticizer can only be injected when the H2 pump supplies bitumen to the mixer. In automatic mode plasticizer supply is turned on by the operator by the corresponding switch on the front panel of the control cabinet. Plasticizer flow can be adjusted from the front panel of the control cabinet.
The adhesion additive supply assembly also consists of pump assembly and valves. Adhesion additive supply is adjusted according to visual indication of the flow meter, selected by the corresponding switch on the front panel of the control cabinet.
The polymer loading platform (pos 12) facilitates simple loading of the polymer to consumption hopper (pos 4). The platform ships separately.
The control cabinet is a rectangular metal box with lockable door. The following components are installed inside: controller, communication devices for starting of motors and control of valves, electromagnetic relays, control circuit and electric motor circuit from protection devices. The control system works in either automatic or manual modes.
Control cabinet general view
1 – Power light
2 – Phase control light, lights test button
3 – Emergency stop button
4 – 2TRM1 (A4) – shows heat carrier temperature and stores heater mode settings.
5 – 2TRM1 (A5) – shows bitumen input and output temperature.
6 – 2TRM1 (A6) – shows pressure of bitumen before the mixer, stores settings of pumping and polymer supply interlocking.
7 – UT24 (A8) – shows and sets the timing of output mode for each reactor.
8 – CI20 (A2) – indicates the amount of plasticizer supplied to the unit
9 – CI20 (A3) – indicates the amount of adhesion additive supplied to the unit
10 – Diagram
11 – Reactor No1 automatic mode buttons
12 – Reactor No2 automatic mode buttons
13 – Rinse automatic mode button.
14 – Manual mode buttons
15 – Heat carrier pump start button
16 – Heating element control buttons.
17 – Plasticizer mode buttons (in manual mode this starts the plasticizer supply pump)
18 – Adhesion additive mode selector (in manual mode starts adhesion additive pump)
19 – Input circuit breaker lever.
The process of bitumen modification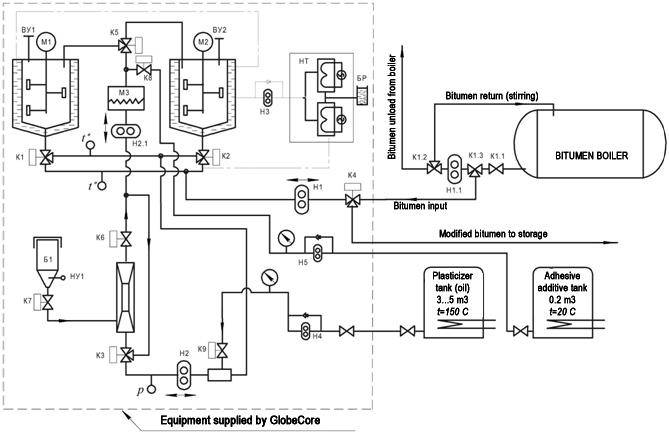 H1, H1.1, H2, H2.1 – H5 – pumps; HT – oil heater; BR – expansion tank; M1, M2 – agitator drive; M3 –  mill; BU1, BU2 – high level sensor; К1.1- bitumen pass valve; BM – bitumen mixer; К1.2, К1.3 – three way bitumen valve; K1 – K9 – pneumatic valve; NU1 – low level sensor; B1 – polymer load hopper.
Note. Bitumen tank (BT), pump Н1.1, valve К1.1 – К1.3, bitumen pipelines are not supplied.
The unit operates in batch cycles. In the production process it is possible to operate both reactors simultaneously or switch from one to the other, which allows to decrease reactor operation time by overlapping their operation.
TYPICAL PLACEMENT DIAGRAM OF MODIFIED BITUMEN PRODUCTION SITE