BITUMEN EMULSIN SPRAYER EQUIPMENT
Dear friends! I would like to share some good news with you!
Our engineers have just developed and constructed a new mobile bitumen sprayer for road construction. This sprayer has been successfully tested and put into production!
bitumen sprayer equipment
SPRAYER OF BITUMEN EMULSIN RBEM-2.5
TECHNICAL DESCRIPTION
This sprayer unit is designed to diffuse hot bitumen emulsion for road construction work. The process of bitumen emulsion spraying is achieved by means of hydraulic pump, the tank for bitumen emulsion storage which can be heated due to burner.
APPLICATION
Road surfacing
For road patching
Sealing of cracks
Asphalt construction work
DRAWING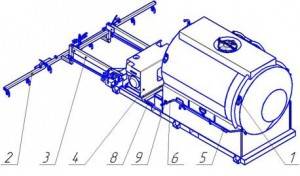 1- Lifting ear
2- Rod
3- Lever
4-Motor cover
5-Fish-rod
6-Sprayer
8- Kea pad
9- Drain cork
FUNCTIN OF PUMPING UNIT
1. Tank filling.
2. Injection of emulsion on the nozzle.
3. Recycling of asphalt emulsion.
4. System flushing.